The photography of tigers in their natural elements is not easy.

The tiger is a discrete animal, living during the night and often benefitting of the darkness to hunting.

The environment in which it moves, is made up forests, underwood and bamboo plantations. These places ensure the furtivity necessary to its protection, with its small cubs and with the success of its huntings.

Often the visions last hardly a few minutes, with grasses, branches or bamboos in the field. As its place of life is in underwood, the light is poor.
Lastly, the tiger meets very early the morning or very late the evening, from where a lack of light.
It is thus difficult to observe this animal under good conditions.



In the past, many were the tourists making thousands of kms to see this splendid animal, and
setting out again disappointed not to have seen it. In spite of many hours of research.


Also the Indian authorities founded, in some parks, the "Tiger Show".

After having sought and finally located a tiger, them mahouts and their elephants will bring the tourists close to the tiger, for one observation from 2 to 3 mn.

It is very short, but these small moments with a few meters of the lord of jungle are extraordinary moments.


Except Tiger Show, the safaris are done on board jeeps (Maruti) on very dusty tracks.

Off-road is prohibited and we spend the night outside of the park (except for some exceptions).

In which season is it to better leave?
It is one question which one is posed in order to put more chances on its side.
I would answer: all, except period between on June 15 and on October 15.
Thus, all depends on your priorities.
In winter, the vegetation will be green and dense, the light softer, purer air and more invisible tigers. In summer, heat pushes the tigers to be gone to water points, but the light is bad.
The big cats suffer from heat. They are thus less active.

Let us not forget that the tigers are large cats and that they often sleep…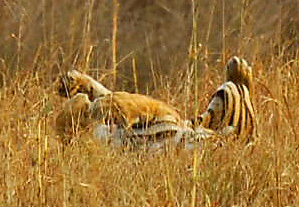 For my part, I vary the months to diversify environment of my observations and photographs.
I also test, in relation to my information, to be on the ground when the happy one events occur. It is then a challenge to manage to photograph the mom and the small cubs. Graal of the animalist photographer.


| | |
| --- | --- |
| My council, for first once, is to leave in March or April, by paying attention not to leave during the Indian school holidays. | |

For the photo material, I think that the couple objectives ideal is a zoom 80/200 or 80/400,
and one 500 (for film) or 300 (for digital). If possible with large opening and stabilized.
One converter for big shoots from the jeep. For a good view/stability have a bean-bag.
The digital offer of great possibilities in high sensitivities and the coefficient multiplier (aps) is a real advantage. For slide, I advise film slide 400 Iso.
Lastly, most important: a good guide and much of chance.

My material, when I go in India :

PHOTO: CANON 5D Mark III, 7D Mark II, 200-400mm f/4L IS USM Ext 1.4x, 70-200mm f/4L USM, SIGMA 24-105 F4 "Art"
NIKON 1 body F6, 2 Bodies Nikon D2X, 1 body D7100, lenss Nikon 500 F4 Vr, 200-400 F4 VRII, 300 F2.8 VR, 70/200 F2.8 VR, Tc 2 III, Tc 1.4 II, Tc 1.7 II, 50 F1.4, 24 F2.8, 10/24 F4

VIDEO: 1 Body Panasonic GH3, lens 14/45 et 45/175, mont Nikon/MFT 3/4, micro Rode Videomic pro, recorder Zoom h4n, screen monitor Ruige 5", rotule vidéo Manfrotto

Apple MacBook, cards Sandisk ExtrèmeIII, cards Lexar 64 Go, monopode and rotule Manfrotto, trépied and rotule Benro, bean-bag, backpacks Lowepro et Kiboko, binoculars Steiner Skyhawk 8x42